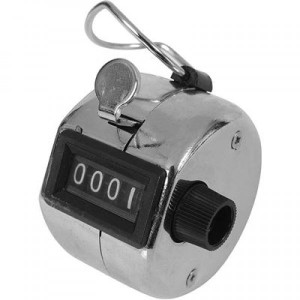 This year we had a sizable number of trick-or-treaters at our house in the Willows neighborhood of Menlo Park. The 303 we saw was down from our high last year, but abou the same as the year before that.
So here are the totals: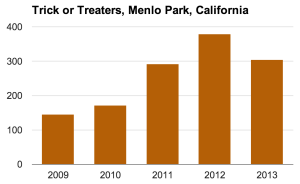 The rate at peak was comparable to last year.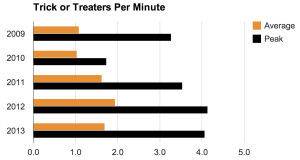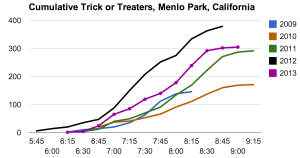 I don't have an explanation why we are down a bit. The weather was beautiful, indeed a little better than last year since rain started at 8:30 last year. Maybe the forecast rain coming last year got people out earlier who might have missed altogether?
It was outstanding having my friend Amy LaMeyer helping out. She operated the clicker that was new this year, and so kept me company, which was a ton of fun.
As always, the Google Spreadsheet with the graphs and raw data is publicly available here. Check it out!